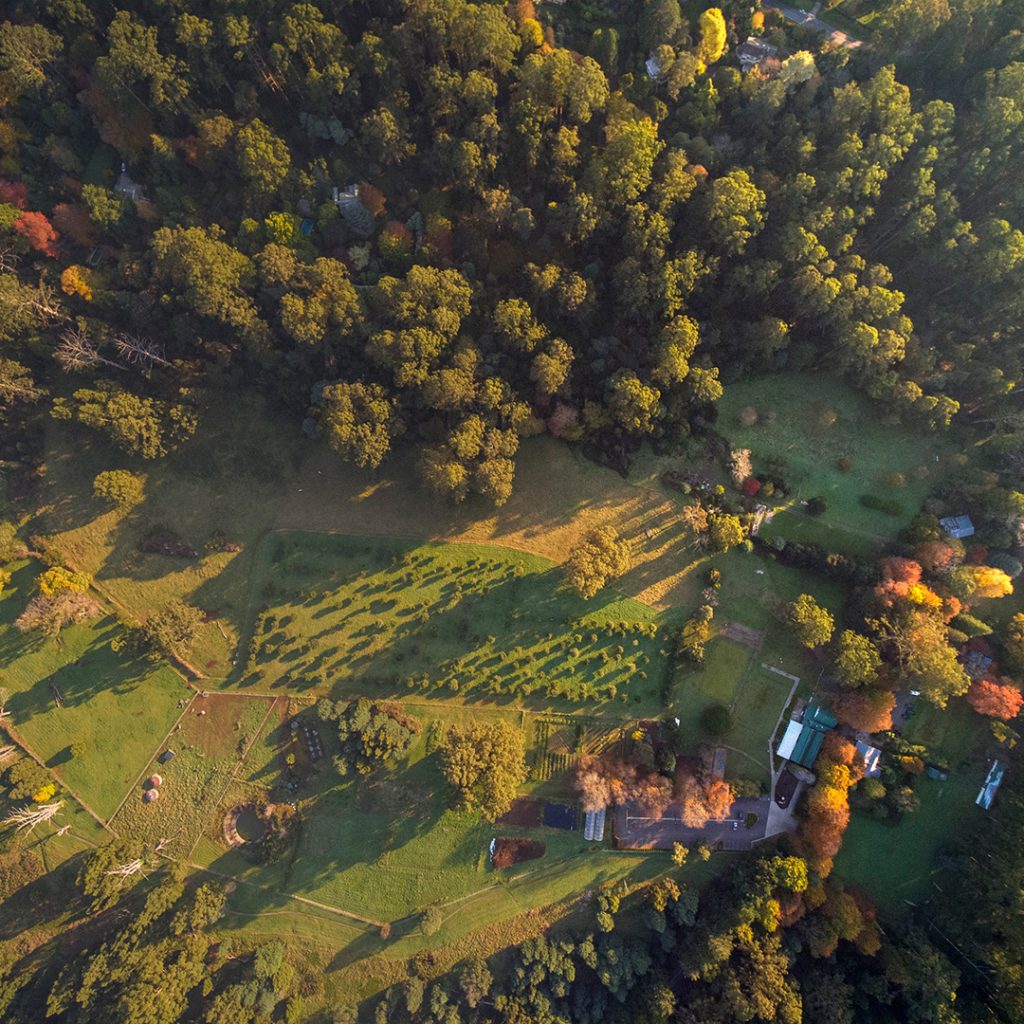 A world class team of operators and consultants has been appointed to restore the estate to its former glory, with global architecture firm Woods Bagot appointed as lead architect and interior designers and noted Australian builders Hamilton Marino to manage the restoration and build.
Works so far:
Community consultation and drop-in sessions have been conducted
Key tenants met with and partner agreements workshopped
Worked closely with all relevant stakeholders to produce a masterplan for the site
Worked with and are now awaiting approval from Parks Victoria to reinstate the vehicle access arrangements in accordance with Permit conditions as secured by previous landowners
Briefed the senior planning officers from the Yarra Ranges Shire
Received Heritage Victoria permit for entire masterplan
Received Stage 1 Yarra Ranges Council permit
Two types of approvals are required – a heritage permit and a planning permit.
Heritage permit
Burnham Beeches has received a Heritage Victoria permit for the entire proposed masterplan.
Planning permit
Burnham Beeches has received approval for the Stage 1 component from Yarra Ranges Council. A further application is to be lodged with Council for a further application to be lodged for the remainder of the master plan to bring the Council permit into line with Heritage Victoria's permit.
The property was sold with a permit in place for redevelopment of part of the site, which will continue to be relied upon, with additional amendments to be lodged with Council to realise the vision for Burnham Beeches. Due to the complexity of the site, we are working on plans that further consider important environmental, heritage and operational matters that were not considered in previous masterplans.
The Trenerry Consortium has appointed globally renowned luxury hospitality company Six Senses to operate the total hotel offering at Burnham Beeches Estate, marking the brand's first foray into the Australian market.
Established in 1995, Six Senses quickly became recognised as the hospitality industry's pioneer of sustainable practices and now manages 20 hotels and resorts in 17 countries and makes it a natural choice of hotel operator at Burnham Beeches.
Sustainability is a core principle that underpins the Six Senses brand, as its team ensures that each action is measurable and meaningful, including the environmental performance of each property, that a site's natural and cultural heritage is preserved and that local communities are benefitted both socially and economically. Importantly, they only deal with suppliers who share this commitment.
In 2017, Six Senses launched Earth Lab, where each property showcases its efforts to reduce consumption, produce locally and support communities. The brand is also working towards an ambitious goal to be completely free of plastic by this year, with plastic straws removed from premises in 2016 and drinking water provided in glass bottles.
Its name reflects its central belief system – that experiencing connection awakens people's senses so that they feel alive to what is happening around them. Its hotels and resorts endeavour to create this sense of connection through curated, thoughtful design functions.
The Mansion, buildings and property generally – which require much needed restoration – will remain at the heart of the project, ensuring the rich history of the site remains at the forefront.
Subject to the review processes of the authorities, we anticipate the optimistic and best case program to completion with the support of the community and the prompt and priority attention by all authorities would be as follows:
Heritage Victoria Planning Permit Application:

Minor Amendments to existing permit:
Permit received June 2023

Permit Application for Glamping and Function Barn
To be lodged by July 2023
Hoping for a permit by late 2023

Construction Commencement

Re-opening of Village Food Area

Completion of all works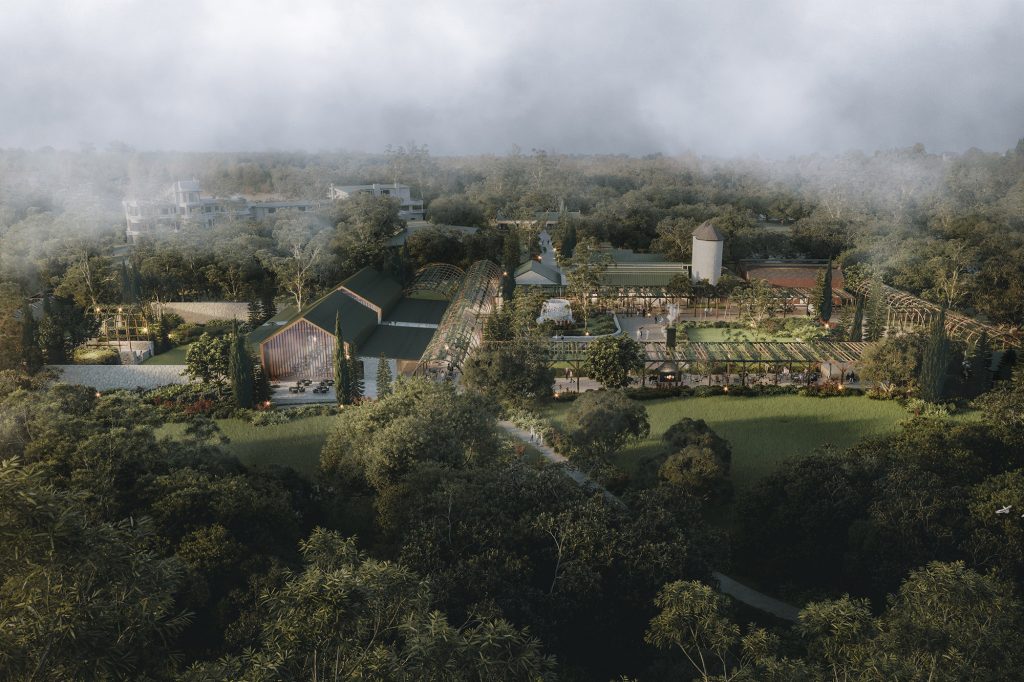 The mansion and gardens
The mansion and gardens will be restored respectfully into Australia's first Six Senses resort, including the Nicholas Hall and Library bar, a restaurant, wellness retreat, pool house and guest rooms.
Village Square
The Village Square is the beating heart of the estate, sitting within a charming farmhouse landscape, true to the self-sufficiency of the Nicholas family.
It will provide an eclectic and layered experience with café, restaurant, dining hall, event spaces, brewery, and providore, where we will welcome guests and visitors, small groups, and wedding parties.
Convenient end of trip facilities will also be provided for bike riders, hikers and walkers, so everyone can enjoy a day out, exploring Burnham Beeches and the broader Dandenong Ranges.
Hilltop retreat
Since 1982, Burnham Beeches has had approximately 9 different owners, each averaging less than 5 years ownership, due to a lack of commercial viability as a consequence of the enormous cost of restoration of the mansion and limitations of the existing planning permit with only 43 keys.
To address these challenges, the project team has proposed a premium, non-permanent glamping offering managed by Six Senses, tucked within the surrounding topography of the site, at considerable distance from property boundaries.
This model is used globally to allow for non-intrusive and environmentally friendly accommodation in national parks or regions of historical significance.
This introduction of a glamping component would increase the hotel accommodation offering to 82 keys, making it commercially viable without impacting the surrounding natural landscape with permanent structures. This will also provide quality sustainable accommodation to address current under-supply of quality accommodation in the Dandenongs.
This is generally supported by Heritage Victoria and will not affect caps on patrons currently allocated in the existing permit.
Car park and vehicle access
Vehicle access
The restoration of access for visitors and hotel guests arriving by car via the Alfred Nicholas Driveway as permitted will not change
Access for service vehicles and buses, and exit for all other vehicles, will be through the existing main Burnham Beeches driveway
No service vehicles and no busses will be permitted to use the Alfred Nicholas Driveway


Car park access
A new access point to the main carpark will better protect the mansion precinct and landscape setting from undue traffic
It will be sensitively plotted through the existing trees
It will expand on the car parking supply for the Alfred Nicholas Gardens patrons
This new access point is not subject to these permit applications and will be addressed via a separate application
Negotiations are currently underway with Parks Victoria to finalise the usage criteria for this entryway
As part of this, we will address the much-needed repair and maintenance of the existing driveway, and establish new public toilets for Alfred Nicholas Garden visitors


West overflow car park
The west overflow carpark will only be used during peak periods of the year
Heritage Victoria requires that it be relocated from in front of the mansion
The most appropriate location for this overflow car park is to the west of the existing carpark
This location is sensitive to the mansion precinct, in an area without existing trees, substantially offset from adjoining properties, and with minimal visibility from Sherbrooke Road
Planting will be incorporated around the parking area, and lighting will be designed to provide security with no light spill to the surrounding neighbours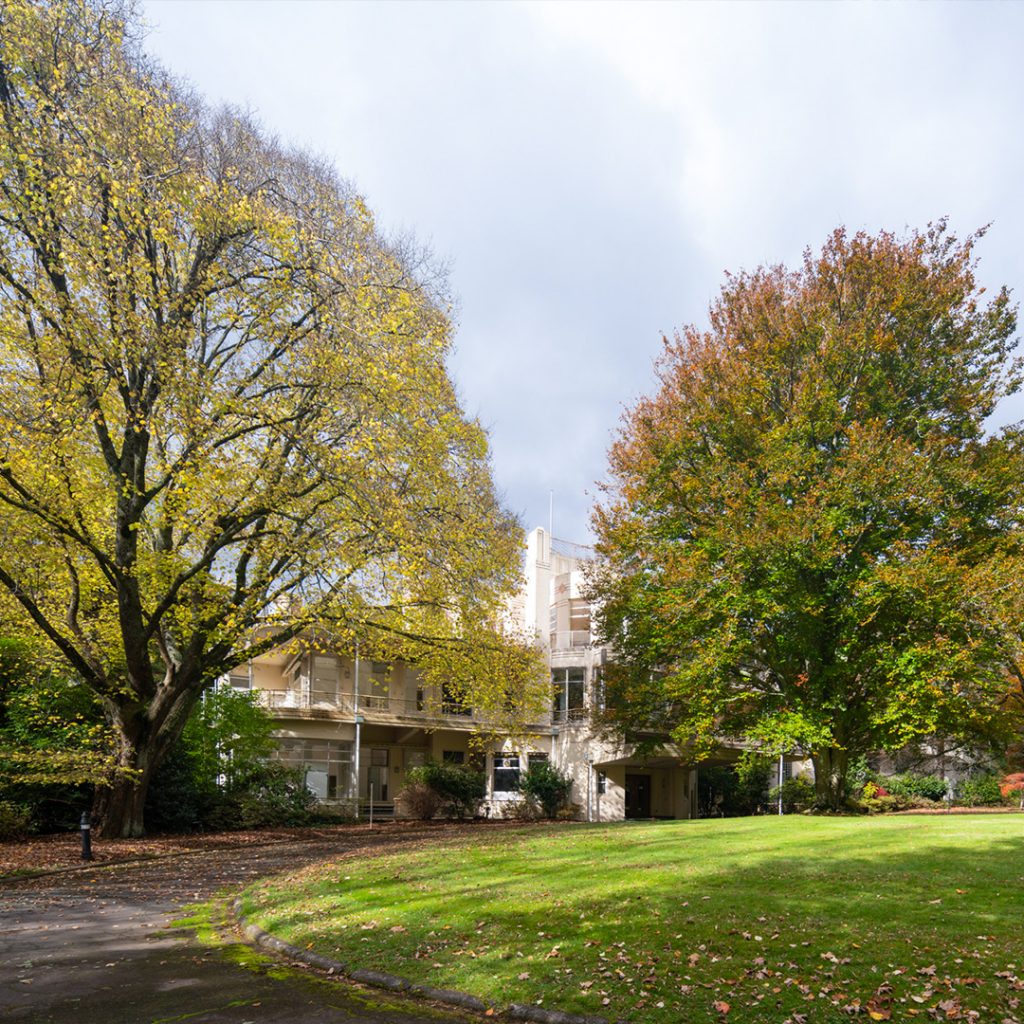 Located adjacent to Sherbrooke Forest, Burnham Beeches is an iconic landmark of the Dandenong Ranges. Reminiscent of an ocean liner, this significant Art Deco three-storey mansion was designed by architect Harry Norris in 1933 for the Nicholas 'Aspro' family.